FAQ's for Card Products
Are your Clear Card Inks "ISO Compliant' certified?
H. W. Sands' series of IR Blocking Screen Printing Inks are unique in that they strongly absorb in the Near IR region of 800nm -1000nm and transmit a high percentage of light in the visible spectrum (400nm - 700nm). These inks have been specially formulated for the production of translucent transaction cards to meet the infrared wavelength range requirements of the ISO/IEC 7810:2003 specification for transmission density (O.D.) of 1.3 from 800nm – 950nm and 1.1 from 950nm – 1000nm.
Transaction cards printed with these inks, in accorance with the guidelines herein, should perform properly in ATM machines and other readers processing IR sensors to detect the presence of the card.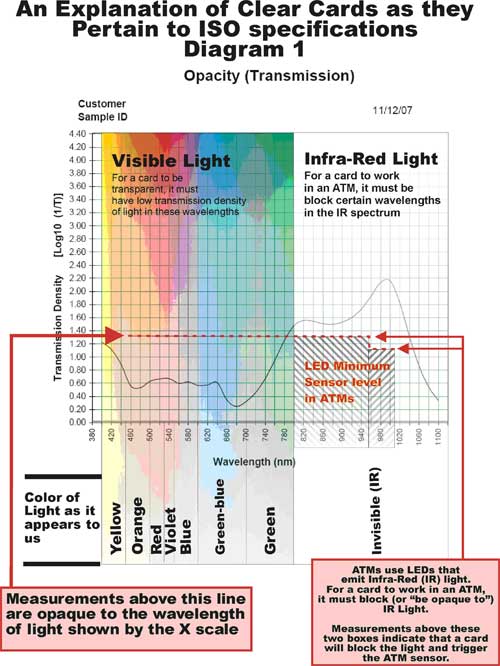 Back to top
---
How do I go about requesting a fragrance that is not listed in your standard fragrance listing?
For those fragrances that are non-standard and not brand specific, please contact an H.W. Sands representative to specify the exact scent you are looking for. If the fragrance can be made available, we will perform a custom encapsulation (2-3 weeks time) and custom pricing will apply as listed in the Scratch and Sniff TDS.
Back to top
---
What is required to produce a custom fragrance encapsulation, such as a brand specific scent?
For brand specific scents, a minimum 1 kilogram of oil-based fragrance must be supplied in order to properly facilitate the custom encapsulation. The oil must be free of water and alcohol ingredients, must have a boiling point over 100°C, include an MSDS sheet and shipped in an unbreakable container.
Back to top
---
How do I go about requesting ink samples for testing purposes and what kinds of quantities are available?
Sample ink quantities are available up to 1 kilogram in size for $150 and will be provided as a two-part system. If smaller quantities are requested, the same flat rate of $150 still applies. Sample fragrances are always generic and are NOT regularly stocked; therefore you may not request which fragrance will be provided. Printed fragrance samples can be requested at any time for no-charge.
Back to top
---